How often do you express your emotions in healthy, productive ways?
I mean, in truly healthy ways – ways that are healthy and helpful for ourselves, first and foremost – not just in service of and helpful for the people around us.
After hiding for so long, we express our emotions in ways that serve to make the people around us happy and comfortable. It will take some time and work and a fair amount of trial and error to get used to focusing on what is healthy for us. This is true especially when that may make those around us uncomfortable.
But it's part of learning to be true to ourselves and to taking back and uncovering our identity.
Letting go of toxic expressions...
We need to let go of the toxic practices we've developed over the years. We need to stop hiding and molding to others needs and expectations in order to cope with our thoughts and emotions.
Our buried selves, still wanting to assert some part in our lives, will sometimes use passive aggression in order to say how we feel while still trying to stay within the "acceptable" mold put on us by others.
This leads to us avoiding our emotions all together, bottling them up and pushing them into the remote corners of our minds and bodies. Or we find ourselves ruminating on these feelings of being misunderstood, of no one being willing to let us just express ourselves in the way we need.
Eventually, it just feels wrong to express ourselves in a healthy way, because it feels like we're betraying our friends and family by doing so. But in reality, we're betraying ourselves by not focusing on what is healthy for us.
How to know when you've buried your true identity
Get the four steps to recognize and pinpoint when you've been morphing yourself to fit other's expectations.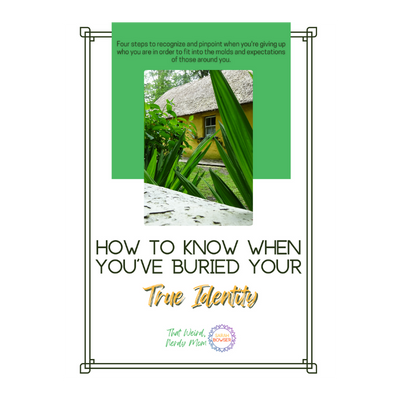 Healthy expression of emotions...
How can you go about expressing yourself in a way that is soul-filling and healthy, not self-hating and self-sabotaging? Start with your inner expression – how you process your emotions and express them to yourself.
Music is a key way to express your inner emotions – both to yourself and to others – when it feels appropriate. Find songs or artists that resonate with you, whose melodies and lyrics speak to you, can help you process everything going on in your mind.
And when you need silence, rather than song, meditation provides similar benefits. A meditation practice doesn't need to be perfect. It just needs to be time for you to sit quietly with yourself, with your thoughts, and work on processing them, gently letting them go.
And if you're looking for tips on meditation, or recommendations for music to check out to see what might resonate with you, come check out the conversations being had in our community, or share in the comments below what you're looking for or need help with. I'd love to help you find some direction.