Dark and dusty laboratories. An eerie feeling to the air, while also feeling slightly off and slightly silly. Evoking images of Gene Wilder in Young Frankenstein, the epitome of the fictional mad scientist.
How many of us think of something like this when the idea of experimentation comes to our minds?
We believe that experiments are meant to be a fancy process, following scientific theory, with hypotheses, solid evidence, testing, conclusions, the works.
What experimenting is to us…
While this is what we want in true, scientific experiments, what if we could experiment at a general, more relaxed level for ourselves? In a way that helps us grow our imaginations and find the brief escape into our minds that can help us understand ourselves better, understand our vision for who we are in the world?
Sometimes, in order to balance out our introverted-ness and the necessity of being out and about in the world with other people, we need to have a healthy level of escape. We can build a residence in our imagination in order to cultivate our own self-belonging and to refuel ourselves to stay energized and best be able to create our desired belonging out in the world at large.
This is not meant to be an unhealthy level of escapism, where we go completely off the grid, into the buried depths of our minds, as a way to avoid our everyday lives, avoid our true selves, and not handle any of what comes our way.
Rather, you want this "escape" to serve as a short, occasional practice that helps you to relax, reset, and recharge – an imagination practice more than anything else.
So, how can you go about fostering your imagination to rest and recharge your soul?
You can experiment.
How to know when you've buried your true identity
Get the four steps to recognize and pinpoint when you've been morphing yourself to fit other's expectations.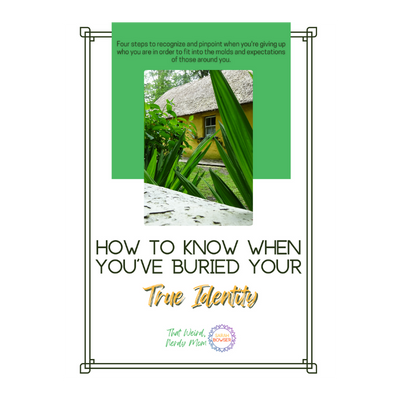 We must experiment with different ideas, different techniques, different philosophies, and different thought processes. But a few that standout as overarching techniques that can benefit us in this arena are visualization, spirituality, and the great wide world of books.
So, how can we start to harness these techniques for our personal improvement?
Visualize what you want for your life. Think about where you want to be, what you want to be doing, who you want to be with.
Consider what spiritual paths you could follow or research, keeping in mind how each path fits into your core values.
And explore any and all books that you can get your hands on to, diving deep into different worlds and identities, to fill your imagination with amazing pictures, emotions, and experiences.
Need some direction on this? Come join us in our community, where we talk about the books we're loving and different topics that randomly come up for us during the week. You might find some amazing inspiration there.