Shifting friendships is a reality for weird, nerdy women like us, once we start to do the work to uncover who we truly are, to accept ourselves for who we are.
This truly came to light for me at the height of the pandemic, when what I thought was a valued friendship, a valued group of friends, fell apart very quickly.
As the breakdown progressed, I struggled to identify just exactly what had happened, what the catalyst was for this painful ending. But hindsight is always twenty-twenty, and as I look back on that dreadful time, I recognize the work I was beginning to do in terms of identifying and reconnecting with my true self.
In the moment it didn't register that this is what was happening, as it was happening at the rate of a sloth waking from a nap and moving through a tree. But a variety of situations throughout that first year of the pandemic led to my realization that I needed to take down the fence around my mind and excavate the dirt firmly packed on top of my identity.
As I came to this realization, I began to understand that I had been giving up on myself, ignoring who I truly was in order to fit in with this group. My values, my introverted tendencies, my hobbies, my beliefs – all were shoved in a six-foot hole to stay buried so that I could be granted belonging.
This realization was a blow to my heart and mind. And these events didn't materialize in my brain or in reality overnight. They occurred over time. And so, it makes sense that it took time, it took processing, it took deep emotional and mindset work in order to work to overcome that pain and reclaim myself.
And that's the same work you'll need to do to bring up the emaciated, neglected identity that you've kept buried for so long.
4 steps to Recognize You've Buried Your True Self
Get the four steps to recognize and pinpoint when you've been morphing yourself to fit other's expectations.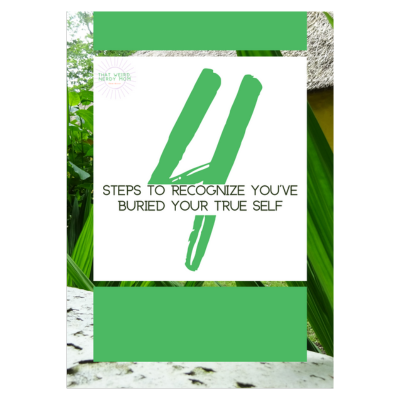 As you move shovelful after shovelful of dirt out of the way, be prepared for your anxiety and depression to ramp up big time. You're digging up parts of yourself that have stayed hidden for who knows exactly how long, all while your friend groups shift and possibly dissolve. That's bound to make anyone feel anxious, and when you deal with anxiety and depression already, it will feel overwhelming.
Acknowledge the anxiety and depression when they show up. Don't try to shovel the dirt back over top of your true self to keep them at bay.
Your mindset work is key to your success or failure here. Need help getting started with your mindset? Shoot me a message or come join our community of weird, nerdy women who are all also working on their mindset. We're here to help.