When I established and defined my own personal, core values, I was both surprised and not surprised.
As I brainstormed and worked my way through the process of figuring out how I process life and events, deep down, I knew that open-mindedness was a value that fit well with my core identity, with my views on life, the world, people, myself. But I was surprised at how often courage came up for me.
I've never thought of myself as a courageous person. I was always the one holding back, drawn to the shadows, never voluntarily sharing, or putting myself out there. The thought of doing something brave or adventurous or strong was not something that I could compute for myself.
But as I thought about it more, I realized that, even in the smallest of actions that we don't necessarily perceive as brave or extraordinary, courage is often present.
I thought of situations at my college jobs – toxic managers, complicated situations with coworkers. I thought of how, in a world where my value was taken seriously at these jobs, how I would've responded to the toxic managers, the toxic relationships with coworkers. I thought of how I did respond, and how I eventually made the decision to leave the one job.
I thought of my marriage and some of the disagreements we have had as a couple – some more complicated than others. I thought of how we were able to resolve those disagreements – even if they weren't necessarily a "perfect" resolution. We still came away from the situations with a better understanding of each other, with respect for the others' viewpoints and a strengthened relationship.
And as I processed these thoughts, these themes, I realized that courage was more present in my life, in my heart, in the core of my soul, than I had previously realized.
How to know when you've buried your true identity
Get the four steps to recognize and pinpoint when you've been morphing yourself to fit other's expectations.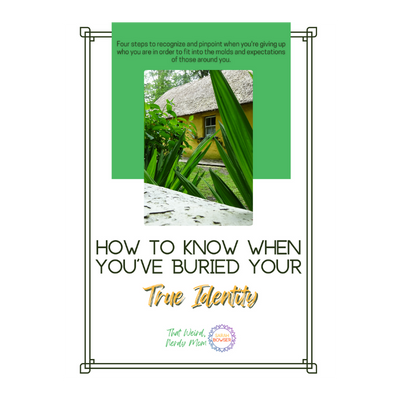 Finding courage in tough spots...
All of these situations, all of my responses and reactions – they all pointed to my ability to find and have the courage to make the tough decisions, to put my mental health first, to confront and leave toxic environments, even in the moments when I thought my response was lackluster, cowardly, or more in the way of avoidance.
You may be surprised by what comes out as a core value for you. You may think that it doesn't make sense, that you're not strong enough or bold enough or smart enough for whatever value is nagging at you.
But, deep down, you are strong, bold, and smart enough. Because YOU are enough.
What core values have you been shocked to have come up regularly for you? Share with us in the comments below, or pop on over to our community to share there.