How do we start the mindset work to dig out of the massive hole we buried ourselves in long ago?
Learning how to reframe your thoughts in a way that is helpful instead of hurtful is one way to start the process. That's not to say it's easy to do so – it takes a lot of practice.
Try taking a few minutes each day to recognize when you have a self-deprecating thought, when you recognize that you're thinking poorly of yourself, trying to think of ways to change yourself rather than to be yourself. Make a note of those moments, either mentally or on a piece of paper.
Go through these thoughts one at a time and ponder on how you can turn them around into a different perspective, to help start to lift your mind out of the dark holes you've dug for yourself and start getting it used to the light again.
It won't come easy at first. And that's alright. This is not something that needs to be perfected immediately. All you need to do is to start.
Another way that you can help with this mindset work, and with this reframing, is to use affirmations.
We don't have to jump into affirmations and immediately feel confident in our I AM statement. We can start with just giving ourselves permission.
Instead of "I am courageous," try, "I give myself permission to be courageous."
By giving yourself permission, you slowly start to let your brain see that you're not in danger when you believe these words. You're giving your brain time to adjust to this new way of thinking.
Repeating affirmations aloud to ourselves helps to retrain our brains into, slowly, starting to believe the words we're telling ourselves. And retraining our brains, changing our mindset, will help bring us to a stable emotional and mental space as we dig down deep to find our core identity.
4 Steps to Recognize You've Buried Your True Self
Get the four steps to recognize and pinpoint when you've been morphing yourself to fit other's expectations.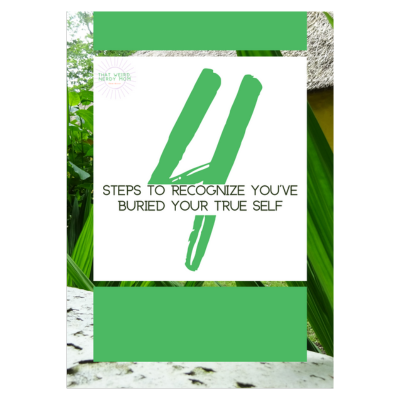 One thing to remember throughout your mindset work – you are an entire, complex being. Your actions, your emotions, your thoughts, how you support yourself and others both emotionally and physically, how you contribute to society – you are everything, all of this, as a whole.
And you are worthy and loved as that whole, complex, weird, nerdy being.
How will you use reframing and affirmations to help kickstart your mindset work? Share your thoughts in the Weird and Nerdy Women community and share feedback and techniques with other weird, nerdy women.